.
.
El jueves 24 de septiembre de 2015, a las 20:00 tendrá lugar en Sevilla en el pabellón de Guatemala de la Exposición Universal de 1929, la presentación del libro El Molino del Oso de Tito Bassi, a cargo de Manuel Merinero Villagrasa y Jaime Galbarro García.
El escritor Tito Bassi, oriundo de la Suiza italiana, pero afincado en Guatemala desde hace más de cuatro décadas, es autor de varios libros, entre los que destacan De antiquae Insubrum a Coactemalan, seguido de un segundo volumen, De Insubria a Guatemala, ambos con ediciones en italiano y El Molino del Oso. Este último, publicado en Guatemala en 2014, fue su primera novela y ahora ve de nuevo la luz en España a cargo de la Editorial Vitela. En él, Tito Bassi noveliza una parte de sus memorias en la Insubria natal, un territorio histórico a caballo entre Suiza e Italia. A raíz de la leyenda de un molino abandonado, pero recuperado por un rico pintor norteamericano, el escritor va desgranando una historia en la que el lujo, el amor y la muerte serpentean, con un misterioso alcaudón de fondo.
…oOo…
On Thursday September 24, 2015, at 20:00 will take place in Seville in the Guatemalan pavilion of the Universal Exhibition of 1929, the presentation of the book El Molino del Oso, by Tito Bassi, presenter: Manuel Merinero Villagrasa e Jaime Galbarro Garcia.
The writer Tito Bassi, a native of Italian Switzerland, but living in Guatemala for more than four decades, is the author of several books, among them De antiquae Insubrum to Coactemalan, followed by a second volume De Insubria a Guatemala, both with editions in Italian languages and El Molino del Oso. The latter, published in Guatemala in 2014, was his first novel and now sees the light again in Spain by Editorial Vellum. In it, Tito Bassi relate part of his memories from the native Insubria, a historical territory halfway between Switzerland and Italy. Following the legend of an abandoned mill, in a second time recovered by a rich American painter, the writer pinpoints a story in which luxury, love and death are snaking with a mysterious Killer Shrike in the background.

…oOo…
Giovedì 24 Settembre 2015, alle ore 20:00 si terrà a Siviglia nel padiglione guatemalteco dell'Esposizione Universale del 1929, la presentazione del romanzo El Molino del Oso di Tito Bassi, con la partecipazione di Manuel Merinero Villagrasa e Jaime Galbarro Garcia.
Lo scrittore Tito Bassi, originario della Svizzera Italiana, ma che vive in Guatemala da più di quattro decenni, è autore di diversi libri, tra i quali De antiquae Insubrum a Coactemalan, seguito da un secondo volume De Insubria a Guatemala, entrambi con con edizioni in lungua italiano e El Molino del Oso. Quest'ultimo, pubblicato in Guatemala nel 2014, è il suo primo romanzo e viene ora ripresentato in Spagna dal Editorial Velina. Nel romanzo, Tito Bassi trascrive parte dei suoi ricordi dell'Insubria natia, un territorio storico a metà strada tra la Svizzera e l'Italia. Alle radici della leggenda di un mulino abbandonato, ma recuperato da un ricco pittore americano, lo scrittore narra una storia nella quale serpeggiano il lusso, l'amore e la morte, con sullo uno sfondo una misteriosa piccola averla assassina.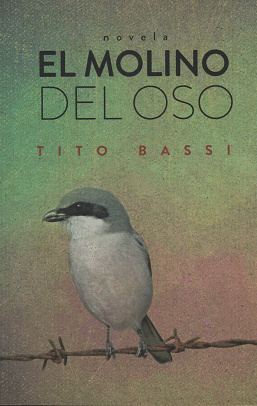 .
.